SOURCE: Burnaby Now
What's the best measure of both success and excellence? For the team at North Burnaby Dental Group, it's a trio of factors: longevity, growth and patient satisfaction. And they have all three in spades.
The practice has been serving its patients for more than 60 continuous years, all while steadily growing in size and scope, and providing a level of patient care that draws new patients in the door every month alongside lifelong ones – some of whom come from across the Lower Mainland and even the Gulf Islands to see their favourite dental providers.
Even in times of change, the focus is always on ensuring the best care for every patient, by fostering a staff of topnotch care providers.
This year, Dr. Ron McCaffrey retired after 40 years, and Dr. Laura Schmidt came on board. Dr. Lisa Kostecki has moved to Ontario to raise her family, and Dr. Shermineh Milani has taken over in her stead. The practice also welcomed periodontist, Dr. Mandana Nematollahi, orthodontist Dr. Sayeh Ehsani, and additional dentists Dr. Chad Pennington and Dr. Farzad Erfan.
"Our whole team works together to ensure that the care of the patient takes priority over anything else," said Dr. Houman Houchmand.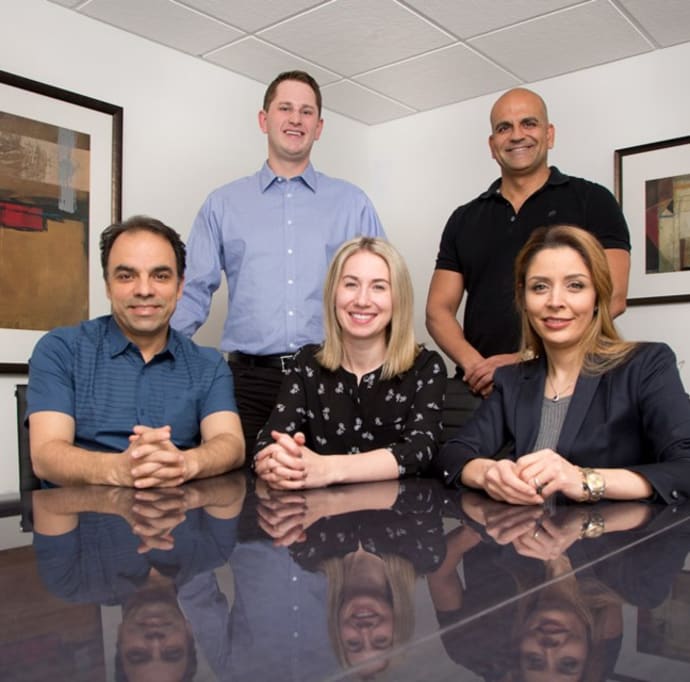 In all, the team at North Burnaby Dental Group includes nearly 40 people – including administrative staff, hygienists, and a variety of specialists – who work as a close-knit group to provide the best care every single day.
"This practice really operates as a family," said Dr. Houchmand, noting that there are staff members who have been part of the team for several decades.
Another factor in their continued success has been an ongoing focus on always being ahead of the curve on new techniques, equipment and technology for their patients.
"We offer sedation for nervous patients and our staff is trained to make people feel at ease and to decrease their stress," said Dr. Houchmand. "We have the latest technology available, from CAT scans to lasers. We want to offer the best dental care, plain and simple."
Their approach has certainly worked – with six decades under their belts, they continue to draw new patients largely due to word-of-mouth recommendations from current patients.
"We have been here a long time and generations of families come from all over, including the island, to continue their dental care with us," he said. "We have several patients who are more than 100 years old and have been coming to us for half their lives."
For Dr. Houchmand and his team, it's rewarding to see those long time relationships continue and to be able to develop new ones.
"We really want people to walk away saying that was the best service they ever had, that we explained everything and that we were extremely friendly," he said. "We want our patients to feel that they are coming to the best dental practice in Burnaby, and that they are truly among a team that cares and puts patients first."
It's a philosophy that influences every part of the organization's work.
"I know that if you treat people the way you would like to be treated, then success will follow," he said.
As part of the booming Heights neighbourhood, the clinic enjoys a central location between downtown and Coquitlam and beyond, with easy transit access.